www.kuraoka.com
(619) 465-6100
Ad Blog: news and views about advertising, branding, marketing, and copywriting
February 2008
Quick finder (main website):
Home | Advertising portfolio | Brochure portfolio | Services | Experience | FAQ | Advice | About me | Contact
Quick finder (advertising blog only):
Ad Blog main page | Monthly archives | Forward to March 2008
---
February 29 2008
Happy Leap Day! The Virginia Supreme Court just upheld the conviction of a spammer, but it was close: 4-3. Here's the story, from the Associated Press via The Mercury News (San Jose, CA):
Advertising copywriter blog link
I have to say, I'm more than a little surprised that the decision was as close as it was, and that the dissenting opinion seems to advocate extending First Amendment protection to anonymous, unsolicited bulk e-mail. Come on, now, this guy wasn't petitioning the government, and he wasn't espousing a political or religious viewpoint. He was hiding under numerous false identities to make false promises to tens of millions of people, grossing up to $750,000 in a single month.
Anyway, advertising typically doesn't enjoy First Amendment protection (which probably triggered Thomas Jefferson's lament that "advertisements contain the only truth to be relied on in a newspaper"), or at least it didn't. To have a split decision on spam email, of all things, muddies the water on all kinds of advertising opportunities, including buzz marketing, commercial blogs, and consumer-generated advertising content.
Back to the top of the page
---
February 28 2008
I have two stories for you today. The first is about a mobile billboard company in Baltimore started by a freelance advertising copywriter. Hurray! Here's the article, from The Baltimore Sun (MD):
Advertising copywriter blog link
I think the marketing prof has it wrong, and I disagree that truck-mounted billboards have the same communication limitations as static outdoor boards. With mobile media, I think the big creative opportunity is in using the whole three-dimensional space rather than a single two-dimensional panel. Turn the entire truck into an event, like Ikea did.
Come to think of it, the best static outdoor boards – and other ads in other media – do the same thing: they build the medium into the message.
Next, I have this story about so-called creative résumés, from The Daily Breeze (Los Angeles, CA):
Advertising copywriter blog link
My advice: don't send a résumé that doesn't look like a résumé. Things are confusing enough in the typical ad agency without having to figure out that a job applicant is a job applicant. Also, those pun-based concepts are irrelevant, unoriginal, and give the overpowering impression of creative mediocrity.
Save the creative for the portfolio.
Back to the top of the page
---
February 27 2008
You know advertising might be in trouble when Google is reporting lower ad revenues and flat click-through rates. Here's the story, from the New York Times via Yahoo! Finance:
Advertising copywriter blog link
Assuming the pessimistic perspective is correct, then I wonder what this means for Microsoft's bid for Yahoo? After all, part of what Microsoft wants, is Yahoo's ad programs.
Still, I'm not convinced that Google – or online advertising – is in trouble. Google may be taking a short-term hit after housecleaning its ad program, and that, combined with a bearish stock market, may be driving all this negativity.
And there's one more factor. Running a profitable online ad program isn't about your click-through rate; it's about your conversion rate. It's easy to make an online ad get click-throughs – just shout "free beer." But then, you've wasted a large part of your budget on non-prospects. I think an underlying part of what's happened, is that online marketers have gotten savvier about attracting prospects instead of clicks, and as they've gotten more efficient, the click numbers seemingly go down.
Back to the top of the page
---
February 26 2008
Here's a great write-up on the Graduate Brandcenter (formerly known as the Adcenter) at Virginia Commonwealth University, from Portfolio.com (NY) via Yahoo! Finance:
Advertising copywriter blog link
The curriculum sounds great. Some of it pretty much sounds like my first few years as a copywriter, working for a former Chiat/Day creative director. But the parts I really envy, are the tracks outside of the creative field, such as planning and brand management. That's all stuff I've learned, as well as I could, on the fly over nearly 25 years. To get that in a semester or two – that sounds terrific! Intense, but really, really good and useful and relevant.
The advertising business is harder now than it used to be. So it's very exciting to see education keeping up with the real world.
Back to the top of the page
---
February 25 2008
Four of the largest newspaper conglomerates in the U.S. have banded together in a desperate attempt to shore up advertising revenue and offer localized web-based advertising in competition with the likes of Google, Yahoo, MSN, and AOL. Here's the story, from BusinessWeek:
Advertising copywriter blog link
The new online advertising network consists of some 174 local newspapers and other publications. Most of which you've never heard of, and that's the problem.
There's a difference between the local paper and the local portal. How many people have their local newspaper's website as their web browser's home page? Um, no one I know. (Most of my business partners use their own websites as their home pages; I use the BBC News site as my browser homepage, but my wife uses MSN, my Mom uses the Yahoo! sign-in portal, and my kids' computer is set to use our family website.) And, mind you, I subscribe to my local newspaper, and occasionally even point to its online version here in this blog.
Which means that when you see ad content on your local newspaper's website, you've probably gotten to that page through a search engine or one of the other portals.
Oh, I started reading the Brookings report I mentioned on Friday. I think my original comments are still valid. The fact that the researchers used quintiles seems to indicate, to my limited mind anyway, that the reported "stickiness" in the highest and lowest income groups may be due to each end group covering a larger range of income variation so it would take, relatively speaking, a larger income change to move out of either group, particularly the top one (since at the other end, the bottom is fixed at zero). And, I still have a problem with the underlying assumption that social mobility should only work one way. But, I'm working my way through it and keeping an open mind because, as I said, this could point to bigger creative opportunities.
Back to the top of the page
---
February 22 2008
The American Dream, that fluid but ever-rising ideal of social mobility, may be at best endangered and at worst extinct. Here's the story about some new research findings from the Brookings Institution (Washington, DC), via BBC News:
Advertising copywriter blog link
Why is this important to advertising? Because a lot of what is sold is sold on the basis of social aspiration. Not all, by a long shot. But a lot. Look, for examples, at the rise of McMansion tracts, private schools, deluxe fittings like electrically powered windows bolted onto inexpensive automobiles, and stylish fast food on Italian-sounding breads.
The flip side of this, is what social critic Paul Fussell termed "prole drift" (Class, 1983): the vast middle class finding itself, much against its will, slipping lower on the socioeconomic scale.
I had a hard time reconciling the apparent statistics with the conclusions.
That bar chart, for instance, fails to take into account, as a histogram would, the density within each category. And, in none of the categories does the parent's income account for 50% or more of their children's chances – in fact, if you look at the extremes, there appears to be as much downward drift at the top as upward drift at the bottom, depending on the sample size, distribution, and margin of error (none of which were disclosed in the article).
Intrigued, I went directly to the Brookings report itself, and found what I was looking for in the appendices. The sample size was 2,367 individuals. I've seen A/B marketing tests with simpler conclusions drawn from larger sample sizes. Appendix B notes a bunch of things that functionally negate the BBC's conclusions, including:
Absolute mobility would be higher with inclusion of the value of fringe benefits such as employer-provided health insurance, retirement benefits, vacation and sick leave.
And:
Overall mobility is largely unchanged after an adjustment for federal taxes, but inequality is somewhat lessened.
Here's a large excerpt from Appendix C:
About one-third of both sons and daughters are upwardly mobile in the sense of both getting ahead of their parents' family income and moving ahead of their parents' income ranking (36 percent of sons and 33 percent of daughters).
Another one-fourth of sons and daughters are riding the tide and are making more than their parents but remain in the same economic position (27 percent of sons and 26 percent of daughters).
As with all children, there is a small percentage (5 to 6 percent) of both sons and daughters who are falling despite the tide; although they have more income than their parents they fall behind their parents' economic position.
Hmm. So some kids are getting ahead, some are staying the same, and a few are falling behind. Sounds like nothing out of the ordinary here, unless you read these stats with an expectation of constant economic growth, an idea that can be considered to have foundered.
I actually downloaded and printed out the whole report and am going to read it when I get a chance. Not because I want to slam it (imagine, a mere freelance advertising copywriter gunning for a team of Brookings scholars; I wouldn't last 15 seconds), but because the conclusions seem to strike at the heart of the American aspirational mind-set, and the research findings – or the data behind them – may indicate a creative direction. In other words, it may be that adjusting the marketing message isn't as simple as replacing an aspirational concept with a value-for-dollar one. The change in the marketplace may go deeper than a recession.
Back to the top of the page
---
February 21 2008
New York retailer Saks Fifth Avenue has a new marketing tool: a double-decker bus that will ferry tourists from its flagship New York City store to nearby museums, giving a fashion show and marketing itself along the way. Here's the story, from Crain's New York Business:
Advertising copywriter blog link
Everything old is new again. I have on my bookshelf America Worked: The 1950s Photographs of Dan Weiner by William A. Ewing. In that book (on page 53, to be exact) is a photograph of "A fashion show on board the New York, New Haven, and Hartford Railroad's Show Train, 1949." It shows a packed commuter car of men and women watching – with various degrees of interest – a model sashaying down the center aisle in what could be a daring two-piece bathing outfit. As she struts, she's peeling off the matching cover-up. On page 119 is a second photograph showing this event from behind the scenes: models preparing for their stroll down the aisle like soldiers girding themselves for battle.
Well. That kind of puts the current Saks two-day bus show in perspective as a much lower-key affair. The current target, tourists, is different, so the approach is different – and much more relevant. Anyway, I hope the promotion is a success.
Back to the top of the page
---
February 20 2008
The next generation is entering the workforce (and the grown-up market). And, like all generations before it, it is unique. Here's an interesting look at millennials on the job, from the Dallas Morning News (TX):
Advertising copywriter blog link
That several individuals in this age group failed to thrive at an ad agency, of all places, is actually not a surprise. The advertising business is no place for people who need a lot of petting. Granted, there is petting, officially sanctioned, peer-reviewed petting in the form of award shows. But you know what? The UPS driver delivers your trophy, you unpack it, set it up somewhere prominent or whimsical as your mood dictates (the usual thing is to use it as a doorstop), and then you go back to work.
I also like the idea behind "reality therapy," which sounds to me like Zen in a business suit.
Back to the top of the page
---
February 19 2008
The battle over high-definition DVD formats is officially over, and Sony won. Here's an early analysis of how Sony, with its Blu-ray format, defeated the well-funded, less-expensive HD DVD format backed by a consortium led by Toshiba, from BBC News:
Advertising copywriter blog link
Secret weapons in Sony's arsenal included the clout of its movie division, Sony Pictures, and the inclusion of a Blu-ray player in the Playstation 3 console. However, both of those were vulnerable right up to the end; the PS3, for instance, hardly dominates the market in the face of the Nintendo Wii and Microsoft Xbox. Yet, the tactic worked well enough to win the big battle, even as the PS3 clings to a third place ranking in home gaming console sales.
It's clear that Sony learned a lot from its Betamax experience (see June 12 2007). This is going to be a marketing case study for some time.
Back to the top of the page
---
February 18 2008
This is a great essay on "greenwashing," the use of eco-clichés in advertising and other marketing communications, from BBC News:
Advertising copywriter blog link
I'm an old-school environmentalist, so some of what the author says strikes me as spot on. Eco-substance has always been harder, and carried fewer rewards, than eco-style. Drive a hybrid car, and you're automatically considered a good guy; walk your kids to school every day, and you're mostly considered a bit odd. The whole eco-chic thing has been pointed to as one reason the uniquely styled Toyota Prius has consistently outsold the prosaic Honda Civic hybrid – owners value the recognition of their green-ness. It's not enough to be green, you have to be acknowledged as green (and, um, never mind the carbon footprint of causing one more automobile to enter the world, and overlook the still-unresolved battery-disposal issue).
Still, eco-style has its merits. After all, new cars will be bought, and there's only good, certainly, in offering a buyer a more environmentally friendly choice.
That said, it will be nice when advertisers start to tackle the harder issues of sustainability and renewability across all their business processes, and not just their advertising.
Back to the top of the page
---
February 17 2008
I have two stories today from the Sunday business section of my hometown San Diego Union-Tribune (CA), about the current retail environment, one down and one up:
Advertising copywriter blog link
Advertising copywriter blog link
I think it's notable that, while big retail is down, there's still opportunity for small, creative retail enterprises.
Taken together, these articles point to an overlooked reason why large retailers are flondering: a dearth of originality. The differences between the goods are narrow even in the fashion departments, as discounters like Target and middle-America stores like JC Penney have made credible inroads into designer chic. Fashion and furnishing basics, meanwhile, are practically commodity goods.
Fortunately, there remains ample room for innovators and tightly focused retail operations.
Back to the top of the page
---
February 16 2008
I saw this in my local independent online newspaper, Voice of San San Diego (CA), about a San Diego-based sign spinning company that has gone national:
Advertising copywriter blog link
A good sign spinner is an unmissable, on-the-spot blend of entertainment and advertising. I like that the company trains its spinners to time message flashes so they're readable.
I also like that here's a company in which the managers can do as well as manage. That does a lot to foster a creative corporate culture, especially when you keep the focus on originality rather than copying the work in award books – er, YouTube. The development process is the same in advertising: young creatives start out copying, then move on to originating.
I like that here's a guy who was the #2 ranked spinner in Sacramento, not a small place, who describes himself as "kind of awkward with the sign."
I like that the company prefers the term "sign spinner" to "human directional." To me, a human directional is just some person holding a pointer. Maybe he or she jiggles the sign a bit to emphasize direction. A sign spinner, on the other hand, attracts attention, the first step in the advertising communication process.
Finally, I like that here's an advertising company that should have been hit hard by the real estate slump, San Diego real estate having been the canary in the coal mine for the rest of the nation, but instead it's actually growing into a more-diversified client base. Cool!
Back to the top of the page
---
February 15 2008
Not every sports celebrity huckster is a winner on the field. Here's the story about popular non-winning NASCAR driver Dale Earnhardt Jr., from CNNMoney.com:
Advertising copywriter blog link
Of course, Earnhardt the Younger isn't just any 16th-placed driver. There's that Earnhardt brand to consider, one of the few names to be well-known outside of racing circles.
Yes, branding helps dominate the competition. But here's proof that it's perhaps doubly important when one doesn't dominate the competition.
Back to the top of the page
---
February 14 2008
Put this in the "Hey, Advertising Works" file. Drinks conglomerate Diageo credits advertising, along with a move upscale, for a rise in profits. Here's the story, from BBC News:
Advertising copywriter blog link
A profit increase, in spirits, during a global economic slowdown is no small achievement.
I don't understand why the analyst thinks that increased marketing expenditures fall into the category of "headwinds," lumped in with increased raw materials cost and currency volatility. Someone needs to pull their head out. If marketing cost is a headwind, it's one that's giving a lot of lift.
Back to the top of the page
---
February 13 2008
I opened my local supermarket flyer – you know, those sheets of colorful newsprint that carry the week's grocery deals – and came face to face with this tender pairing of Valentine's Day headlines: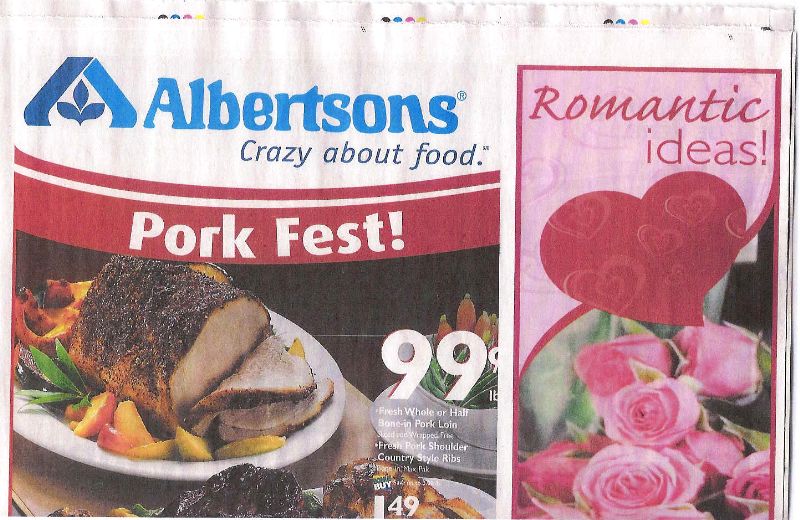 .
Okay, I have no objection to "Pork Fest!" as a headline. No sniggering, now, it communicates something special. This is not your usual pork sale, oh no, this is a veritable pork sale event.
Neither do I have a problem with "Romantic ideas!" – it's straight and to-the-point. I think the exclamation mark may set an overly emphatic tone, but hey, time is running out. Especially if you're a person who gets his or her Valentine's Day ideas at the grocery store, and you've waited until today.
No, it's the joining of those two worthy concepts in a single pageview that calls attention, once again, to the power the art director has over a copywriter's work.
As long as we're talking about grocery stores, the local Fresh & Easy had its grand opening today. That's the express grocery chain operated by Tesco, the UK-based retailing powerhouse. I went, lured by a generous direct-mailed coupon.
I found neither Pork Fest nor Romantic Ideas (although there was a nice display of cut flowers at the door), but I did find an interesting business model. It's a small store, with a relatively broad but sparse selection of what appeared to be high-quality staple goods and fresh foods at fair to knock-down prices. Almost every item has a Fresh & Easy branded equivalent. Local management did a good job identifying and carrying items that the major grocery stores around here either don't carry or don't discount (no-salt-added canned goods come to mind). Checkouts are largely automated.
The on-site marketing effort was in full swing, with people handing out free reusable grocery bags and coupons for later visits. The counter-marketing effort was also in full swing, with the United Food and Commercial Workers union handing out leaflets urging shoppers to spend their grocery dollars elsewhere. Clever bit: the union piece echoed the colors and look of the Fresh & Easy pieces, so you didn't realize it was a hit piece until you got into it.
In all, the outing was a worthwhile look at retail marketing in the trenches.
Back to the top of the page
---
February 12 2008
Customer satisfaction is the standard by which service providers are measured. Or is it? New research indicates that even satisfied customers will happily switch providers to take advantage of a competitor's promotional offer. Here's the story, from CRM Today (Athens, Greece):
Advertising copywriter blog link
Notable: customers say they will pay more to have a better customer experience, but those who switched service providers were "almost twice as likely to have switched due to a compelling offer from a competitor than for a problem they had with their existing provider."
I don't think there's a single metric that can be applied here, whether it's customer satisfaction, quality of experience, or whatever. And, even if there was, it might be more useful as an internal milestone against which to measure improvements in infrastructure and delivery, rather than marketing. Branding sometimes gets lumped into customer satisfaction efforts because it supposedly provides a consistent, comfortable (and comforting) corporate voice that connects with customers. That connection may be illusory, at least as it applies to retention.
If customer retention can't be assured by giving the best darn service on Earth and satisfying customers, and if in some cases the best customers are the ones most-likely to switch, then what options do you have?
I think the answer lies in staying in touch with customers, not just to measure their responses and collect feedback, but to counter competitive threats. That's where often overlooked marketing tools like newsletters and press releases can play a strategic role in customer retention campaigns.
Also, the best defense being a strong offense, we can turn to copywriter-turned-author Dorothy L. Sayers for some good advice: it pays to advertise.
Back to the top of the page
---
February 11 2008
Just in time for Valentine's Day, here's an interesting story about the complex mathematics of human decision-making, from BBC News Magazine:
Advertising copywriter blog link
I think any attempt to analyze individuals mathematically is doomed to short-lived success, if any. I think groups of people can be analyzed and, to a certain extent, categorized, which is useful for certain aspects of the advertising challenge – determining which media to buy, for instance. But every ad or brochure a person sees is experienced individually. There is mass media, but no mass advertising. That's the opportunity and the challenge of creating ads.
Real people will not be pushed, filed, stamped, indexed, briefed, debriefed, or numbered (to quote The Prisoner), despite the best efforts of mathematicians and advertisers. They can, however, be persuaded, en masse, one at a time.
Back to the top of the page
---
February 8 2008
Mobile advertising faces privacy challenges. Here's the story, from CRM Daily, part of the NewsFactor Network (Woodland Hills, CA):
Advertising copywriter blog link
I think there are two keys to managing privacy concerns. First is a strategic infrastructure issue: developing and maintaining a robust, flexible, easy-to-use opt-in/opt-out system for consumers that allows here-and-now choices. In other words, make it super-easy for me to find an ATM or lunch deal wherever I am right now, but don't bother me later with promotional messages. Second is a tactical creative issue: developing and delivering targeted advertising messages of real relevance and value to overcome that here-and-gone option and build a lasting relationship. One approach might be entertainment-oriented content that just happens to be location-specific.
Even with Facebook and MySpace, I disagree that privacy is "old school." What's happened, is that the ante has been raised for delivering relevant messaging. Do that, and people will opt in. Fail to deliver relevance, and people will opt out.
Back to the top of the page
---
February 7 2008
More sky-is-falling economic news, from the Associated Press via Yahoo! Finance:
Advertising copywriter blog link
Not only did retailers across the board have a lousy holiday season, but they're kicking off a lousy first quarter. Jaw-dropping snip:
Wal-Mart noted in its release Thursday that gift card redemptions were below expectations and that customers appear to be holding gift cards longer and "using them more often for food and consumables rather than discretionary purchases."
The gift of groceries, normally reserved for charity, is discreetly popping up in middle-class homes.
So, what does this mean for advertising copywriters and art directors?
It means that the days of easy sales or market share gains are over. It means that the boom mentality that drove a lot of marketing success stories over the past decade are about to go bust. And, it means that it's about to get harder to make differentiation meaningful to the consumer. It's also going to drive up the value of one-on-one interaction with consumers, whether it's online, on-site, or through advertising, which is all to the good.
Some of us have been here before. It's not a bad place to be, really, if you have the strategic and creative chops to work a recession in your client's favor.
Back to the top of the page
---
February 6 2008
It's a marketing piece that was delivered by mail, but the intended audience wasn't the addressee. And, it wasn't a marketing piece either, although it really was. It was a letter from Steve Ballmer of Microsoft to Jerry Yang of Yahoo. And here's the story of this "bear hug" tactic, from the New York Times via, um, Yahoo! Finance:
Advertising copywriter blog link
This is a fine example of iron-fist-in-a-velvet-glove writing, the kind that a lot of direct response copywriters aim for and miss.
Note that it breaks some common copywriting "rules." For instance, it deploys a uniquely aggressive use of the passive voice, causing scabs to be peeled back and poked while avoiding the appearance of actual peeling or poking. (There it is again. See, you can do it too, only better than that.) And, it circles its target like a shark, rather than addressing the target directly.
Perhaps the key lesson here, is that the letter is addressed to a single person but intended for a wider audience. The usual sales letter is exactly the opposite, a mass-produced piece aimed at a single person. No wonder so many direct mail pieces lack the verve, the veiled threat of loss, and genuine relevance of this one.
Back to the top of the page
---
February 5 2008
Super Tuesday has put a national spotlight on the primaries. Several contenders in both parties have dropped (or been pushed) out of the race. California is renewing its quadrennial whine to hold its primary election earlier, so as to have more influence on the outcome. And, a local group is campaigning to draft Jack, the trademarked spokescharacter from Jack in the Box. Here's the story, from (of course) my hometown San Diego Union-Tribune (CA):
Advertising copywriter blog link
Well, this is just silly, which may be just what's needed on a Tuesday that's Super. What I find notable, is that the company is (so it claims) not behind the fake campaign. The entire thing is allegedly user-generated. And, although it may lack corporate approval to use a Jack in the Box trademark, it also has not been shut down or even warned off. The company seems to be treading lightly here, which is appropriate.
Oddly enough, as long as the fake campaign remains silly and snarky, there's probably little to worry about for either side (if there are two sides). But if someone in either camp gets Serious, the whole thing will come crashing down.
Back to the top of the page
---
February 4 2008
I have three stories for you today. First up, to get it out of the way quickly, is one last blurb about the Super Bowl. This story from CNN Money focuses, not on the ads (which were pretty bad), but at Giants quarterback Eli Manning's prospects for fame and fortune in advertising:
Advertising copywriter blog link
A lot of underdog companies would love to see a tie-in, and the fact that his older brother paved the way for surname recognition is certainly in his favor. The question in my mind, is whether having two famous Mannings dilutes the brand. I think the tie-in might work best if one could work both brothers into the concept.
Next, I saw this irresistible little pick-up from The Washington Post (DC) in my local San Diego Union Tribune (CA). It's about London cabbies being used as advertising mouthpieces to promote American tourism:
Advertising copywriter blog link
This is smart marketing, especially with a captive audience, stereotypically chatty drivers, and a weak dollar. Someone had their thinking caps on.
Here's the last story of the day, this one a completely home-grown story from my hometown paper, the San Diego Union-Tribune (CA), about birthday greetings as marketing tools:
Advertising copywriter blog link
A phone call would bother me. But those birthday cards in the mail – yeah, those are kind of nice even though I know that they're marketing to me. My kids somehow get toy store coupons which we never signed up for (ah, the magic of data mining and list compiling) and have never used because we don't go to the toy store very often. We get birthday coupons from Sea World too, which we occasionally use since we do go to Sea World. The question there, is whether we remember to take the coupon, so the coupon is obviously not driving the visit.
The important thing about these birthday greetings, is that they're an excuse to contact customers with personalized messages. Even if an offer is enclosed, it's not so much about generating a response as about associating your brand with something positive and cheerful.
Back to the top of the page
---
February 3 2008
I feel obliged to post up after the Super Bowl. I saw most of the ads (the distractions in my house included kids, wrapping up homework projects, a phone call, and the need to get dinner on the table).
I was unimpressed by the commercials I saw. Almost to a spot they were self-indulgent, self-conscious, and obvious. It was as if none of the advertisers brought their A game.
This may have been the first Super Bowl game in recent history in which the ads were upstaged by the game and the half-time show. It was a good game. And a good half-time show. The ads needed to step up to stand out, and unfortunately none of the ones I saw did.
Back to the top of the page
---
February 1 2008
Here's one final story leading up to the Super Bowl, about how one business owner is gunning to have the worst ad in the game, from MSNBC.com:
Advertising copywriter blog link
I think this is an example of good spin applied to bad sense. Yes, we're talking about the ad now. But a month from now, no one will remember the brand or the business. The ads may be bad, but they're not memorably so. The only taste they will leave – if any – might be the sense that here's a company that can spend media dollars but can't deliver content. That strikes me as the opposite of what a sales lead company would want as a marketing message.
In other news, the Starbucks brand is flailing. That, apparently, is news. Here's the story from BBC News:
Advertising copywriter blog link
See, here's the thing. For every person who thought of Starbucks as their "third place," there was someone else who thought the brand represented merely overpriced coffee. That undercurrent was always there; the exclusivity was part of the brand experience.
Unfortunately, the brand experience may not translate well under increased competitive pressure, especially with a recession, more places upping the ante with better coffee, and Starbucks itself being perceived as ubiquitous and un-unique.
The branding challenge is an interesting one. If you essentially developed the category, how do you go about differentiating yourself within it? What is the core brand asset any more?
Back to the top of the page
Backwards in time to January 2008
---
My experience as a copywriter.
Main page | Advertising portfolio | Brochure portfolio | Consumer goods | Eco-friendly products | Food services | Healthcare | Hospitality & tourism | Internet | Manufacturing | Packaged goods | Real estate & construction | Retail & restaurants | Service | Technology
Answers to frequently asked questions.
Why should you hire me as your advertising copywriter? | FAQ
Advertising & marketing advice.
Advertising strategy and other lies
An advertising copywriter's bookshelf: recommended books
Brands and branding: a white paper
Do you make these mistakes in advertising?
Free (yes, free) advertising copywriting resources
Four ad copy traps that ensnare even experienced copywriters
How to become an advertising copywriter
How to take your copywriting portfolio to the next level
How to write a brochure: advice from an advertising copywriter
How to write better ads
Long John Silver on writing ads
More career advice: what's it like being an advertising copywriter?
Napoleon's advice to entrepreneurs, Part I: starting the enterprise
Napoleon's advice to entrepreneurs, Part II: the entrepreneurial character
Napoleon's advice to entrepreneurs, Part III: growing the enterprise
The economy (and what to do about it)
The Tightwad Marketing project
When you should consider hiring a freelance copywriter
Advertising copywriting mentorship
Back to the top of the page
Me, me, me.
Awards & honors | Curriculum vitae | Services
Email me.
Call or fax me.
Phone and fax: (619) 465-6100
Write me.
John Kuraoka, freelance advertising copywriter
6877 Barker Way
San Diego, California
92119-1301